Two years after Muslim ban, Utah remains a bright spot of tolerance
Public opinion article written for Salt Lake Tribune by Exec Director Satin Tashnizi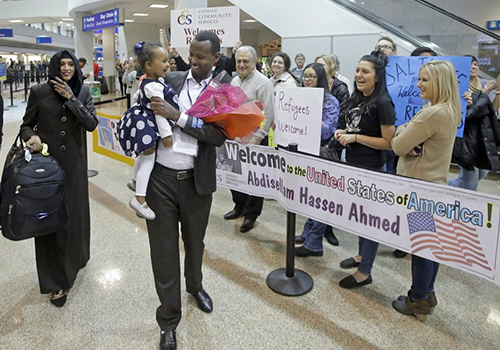 Two years ago, I was devastated when President Donald Trump announced sweeping travel restrictions against individuals from seven predominantly Muslim countries that I silently cried at work.
As an Iranian-American Muslim born in Stockton, Calif., I still had my rights. But I saw the impact on my family. My grandmother, a legal U.S. resident, wouldn't risk the trip to Europe for her youngest daughter's wedding because she was afraid she wouldn't be allowed back in. Watching television felt surreal, and it also hurt to watch my religion be relentlessly misrepresented. This was not the America I knew and loved. I felt fundamentally rejected from my own country.
In response to what has been called the "Muslim ban," I joined two Muslim friends to put on a public event so people in our community could come ask real questions about Islam and Muslims. Over the course of a month, we spoke to over a hundred people. Their interest inspired us to found the Emerald Project, a nonprofit organization that aims to combat the misrepresentation of Islam. We were surprised when two local law enforcement agencies, the Federal Bureau of Investigation and Utah Transit Authority, invited us to give presentations to employees about fear of Islam — or Islamophobia. Our team was humbled by their openness to having deep and at times difficult conversations with us. The human connection we felt through sharing our stories was incredibly powerful.
Still, we have more work to do to fight against intolerance. In November, the FBI released an alarming report showing that hate crimes in 2017 were up 17 percent from the year before — a rise for the third year in a row. Of the more than 1,700 people victimized because of their religion, 19 percent were targeted because of anti-Muslim bias.
Despite this, at the start of 2019 I am deeply optimistic. Many Americans have denounced those hateful messages from a few years ago. Our country saw two Muslim-American women sworn into Congress. Closer to home, we've been thrilled to welcome hundreds of Utahns of all walks of life to our Emerald events, where we experienced some of the most meaningful and personal conversations about Islam with perfect strangers. Our role is to help people understand the difference between Islamic religion and culture and the man-made political ideology that has become terrorism.
Instead of making inaccurate generalizations about Muslims as security threats, it's time to acknowledge the important contributions that many Muslim immigrants make to the United States, especially in a city like Salt Lake, which is home to four mosques. Foreign-born residents from the Middle East and North Africa — including Morocco in the west to Iran in the east — were 1.6 times more likely to start their own businesses in 2015, compared with native-born Americans, according to a new report by New American Economy. Nearly 1 in 5 became entrepreneurs. And nearly half had at least a bachelor's degree, compared with 31 percent of the U.S. population overall. This is a group of people who care deeply about strengthening their American communities.
As I reflect on the people we've met and conversations we've shared, I find myself feeling closer to my community than I ever did before. I'll never forget the good people who chanted "Let them in" for Muslim travelers at JFK International Airport two years ago and those individuals who formed a ring around Muslim students so they could pray in peace. Since then, I've met so many more who seek to understand Islam before they rush to hate. They give me hope for the future and make me even more proud to be an American.
Satin Tashnizi is executive director of the Emerald Project in Salt Lake City.