The Emerald Project held its very first event in Salt Lake City in February of 2017. Following the echos of a "Muslim Ban" and increased chatter on the topic of Islam and Muslims it was time to offer a safe space to have a real conversation, this time with a focus on the truth. Three young Muslim women led a team to put on our very first event.  The 'Is Islamophobia Real?' series, held at Marmalade Public Library kicked off what would come to be the first of many conversations. Since then the Emerald team has expanded its reach to a diverse audience, ranging from the FBI, to Salt Lake Community College, Muslims to non-Muslims, lawmakers to citizens, and individuals from all backgrounds and views. Today we are expanding our network and diving deeper to bring back the nuance to all conversations related to Islam/Muslims.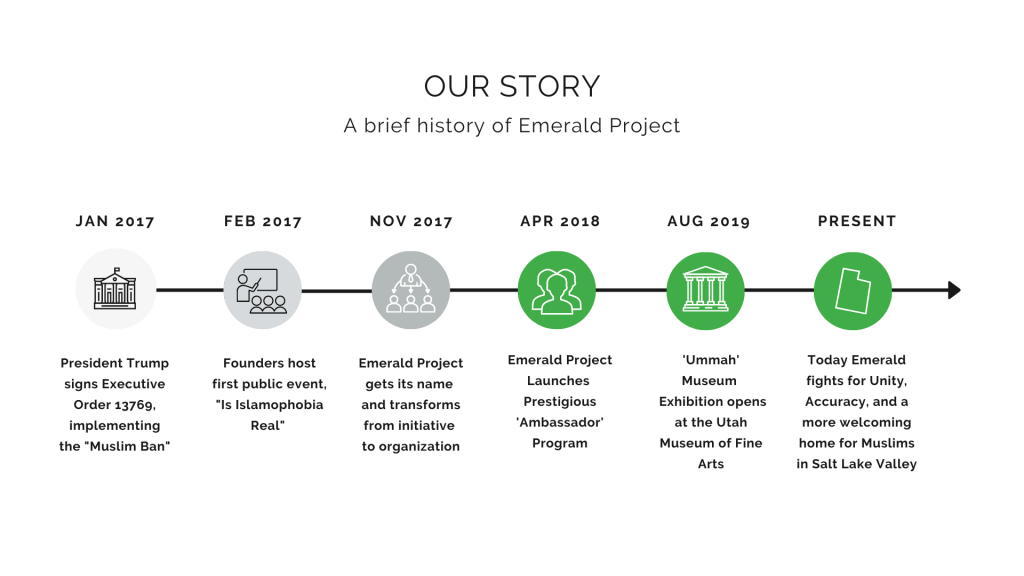 The Emerald Project is a non-partisan, non-profit organization dedicated to combatting the misrepresentation of Islam. The Emerald Project believes that the misrepresentation of Islam has diverse and far reaching consequences. Among them: Islamophobia, challenges with the Muslim Identity, and the mispractice of Islam within Muslim communities. Our organization is unique, we fight misrepresentation simultaneously within the Muslim and non-Muslim community. Our diverse team is made up of young first and second generation Americans. We all speak two languages, we all share two cultures and are deeply proud of our mixed identities. We are cultural brokers bridging the gap of understanding by facilitating nuanced conversations. #LetsTalkAboutIt
Emerald Project envisions a community in Salt Lake Valley that welcomes and unites Muslims by: making it easier to practice Islam, explore the Muslim identity, and only use accurate sources to learn about Islam.
Accuracy

At Emerald Project we respect the sacred nature of our mission. Discussing Islam requires the utmost dedication to truth and accuracy. We take our words seriously, and strive to speak on knowledge we absolutely know to be accurate. We are proud to say 'I don't know' when we don't have the right answer. This only reinforces the sacredness of Islam.

Creativity

Emerald Project is reputable for their creative approach to combatting the misrepresentation of Islam. Through collaboration and diverse minds on our team, we value the best approach over what's been done or what's convenient.

Neutral Environment

A neutral environment is critical to achieving mutual understanding. We are committed to building an environment where everyone feels comfortable to talk through their opinions and ask questions. A space where Muslims and Non-Muslims feel welcomed and heard.

Transparency

Nothing is off the table. We are committed to exploring all topics related to Islam and Muslims. and addressing any and all challenges to the representation of Islam. We invite controversial conversations and tough questions.
Following the birth of our mission, we needed a name that captured our cause. 'Emerald Project'. A precious gem like our worthy cause, feminine like its 3 female co-founders, Emerald green like color of Islam.
Misrepresentation on Two Fronts
Non-Muslim Community

Emerald Project believes the vast majority of the greater American community is misinformed or misunderstands Islam (the religion) and what Muslims (the followers of Islam) believe. We carefully design dialogues to engage with the non-Muslim community to mutually increase understanding. We partner with non-Muslims to make Salt Lake Valley a more welcoming home to Muslims.

Muslim Community

Emerald Project believes there is a lack of separation between Islam and culture. The misinterpretation of Islam has lead to societal norms and mainstream beliefs that are inaccurate representations of religion. Cultural traditions are often passed off as Islam when in reality they are not. This has resulted in mispractice of the religion and caused many to unfortunatley leave Islam althogether.
Emerald Gives Back
Talking with the FBI
Muslim Stories
UMFA Exhibition: Ummah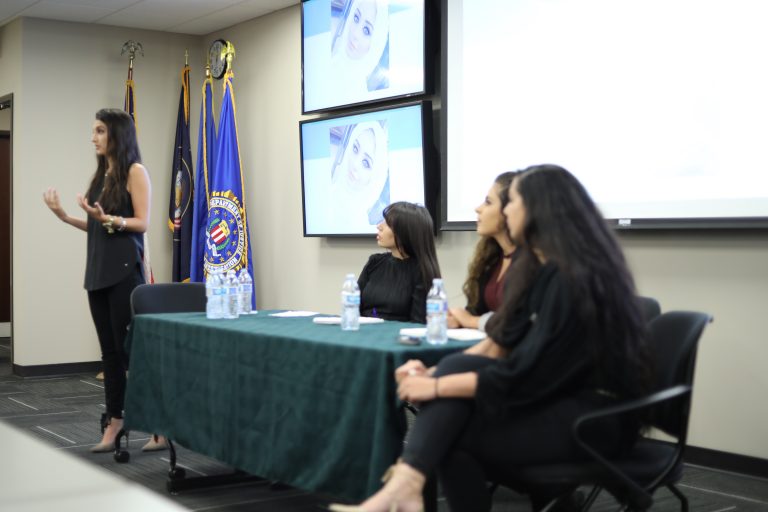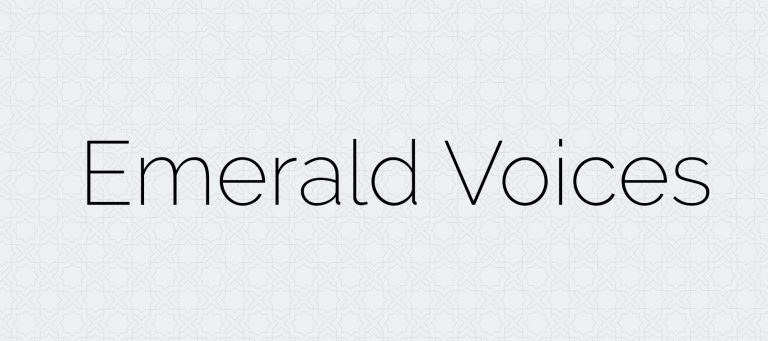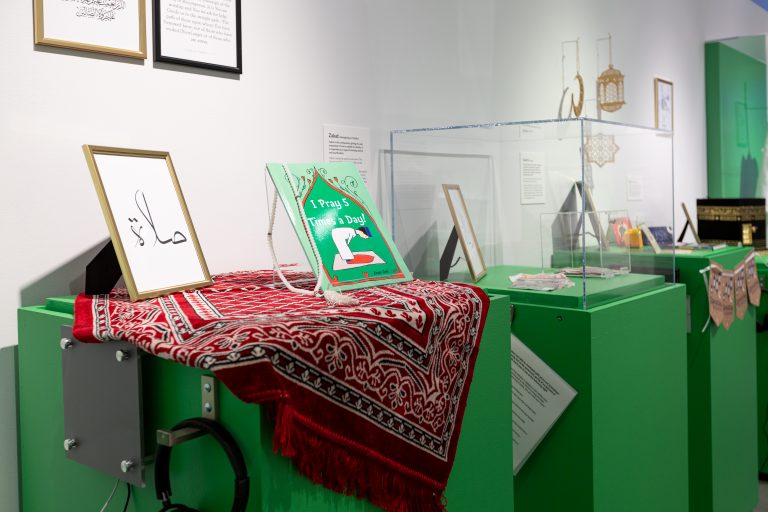 "None of you believes until he loves for his brother what he loves for himself"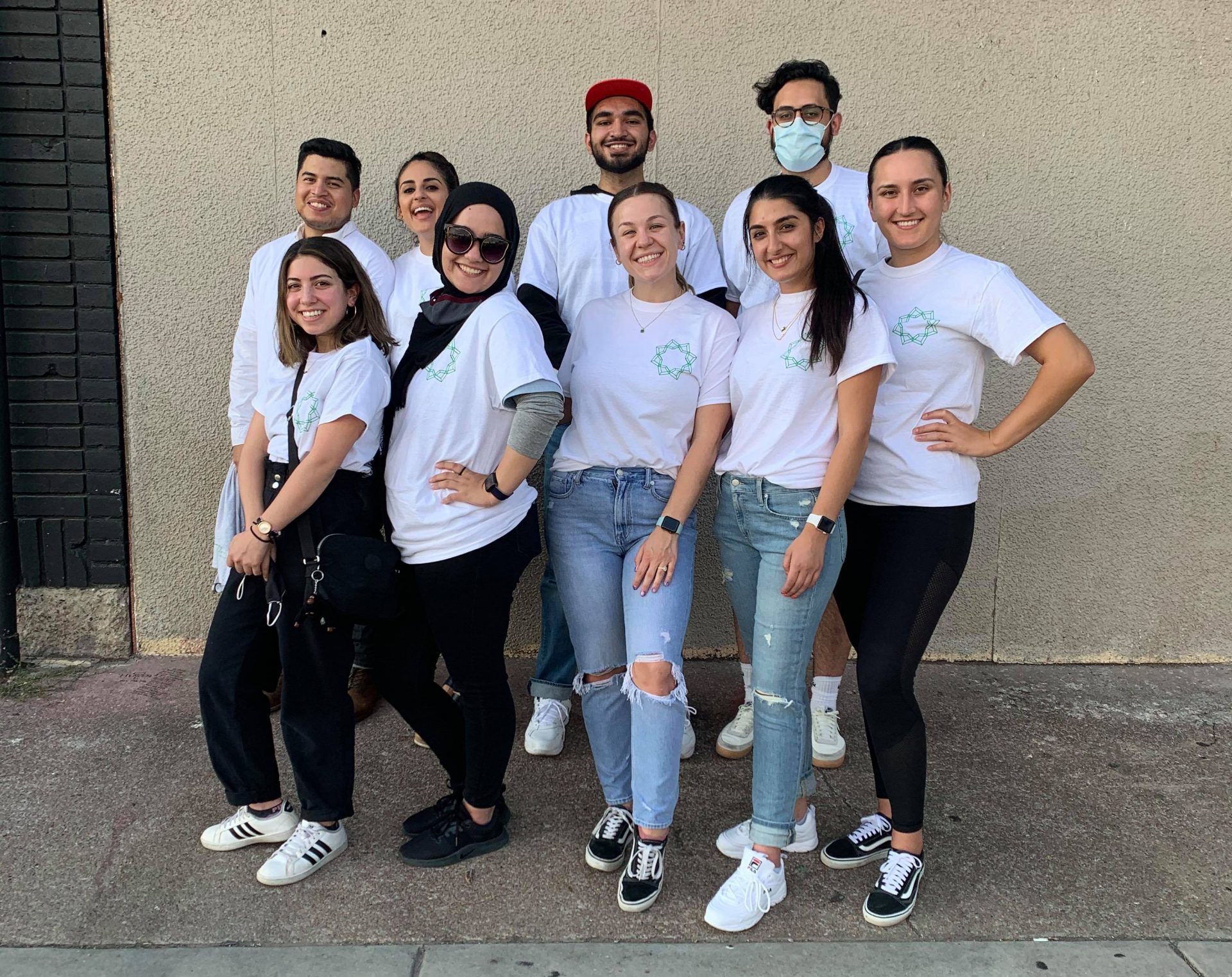 Having a dialogue with the FBI about Islamophobia and how our identities were misunderstood was a surreal experience. All three of the Emerald founders' families were investigated by the FBI, post 9/11. But there we were, answering their questions. This time they wanted to know who we were, not what we were doing.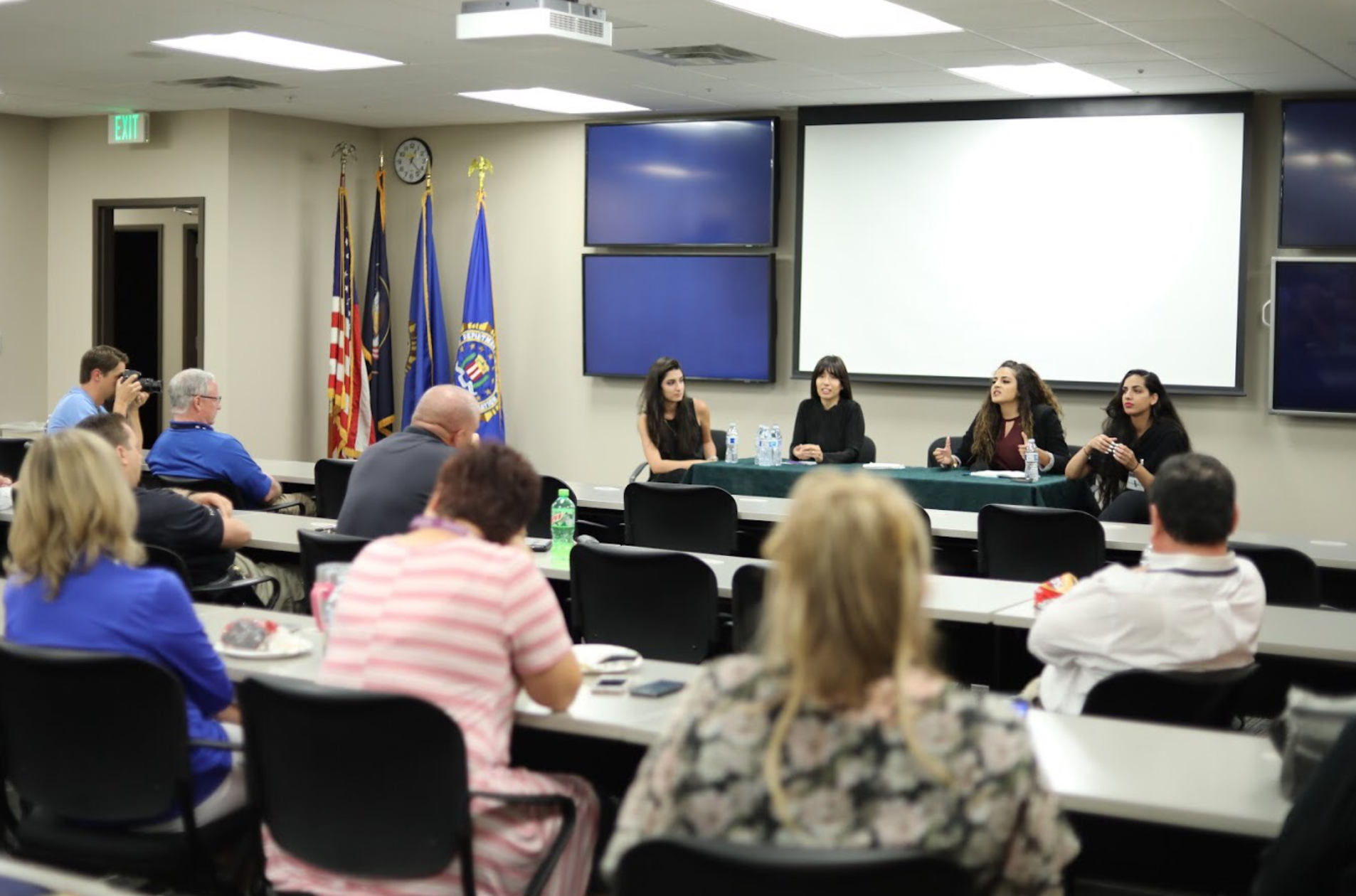 I have grown up struggling to find a momentum in living a dual cultured life. I struggle to negotiate the ethnic traditions while still upholding my American roots. That can be challenging.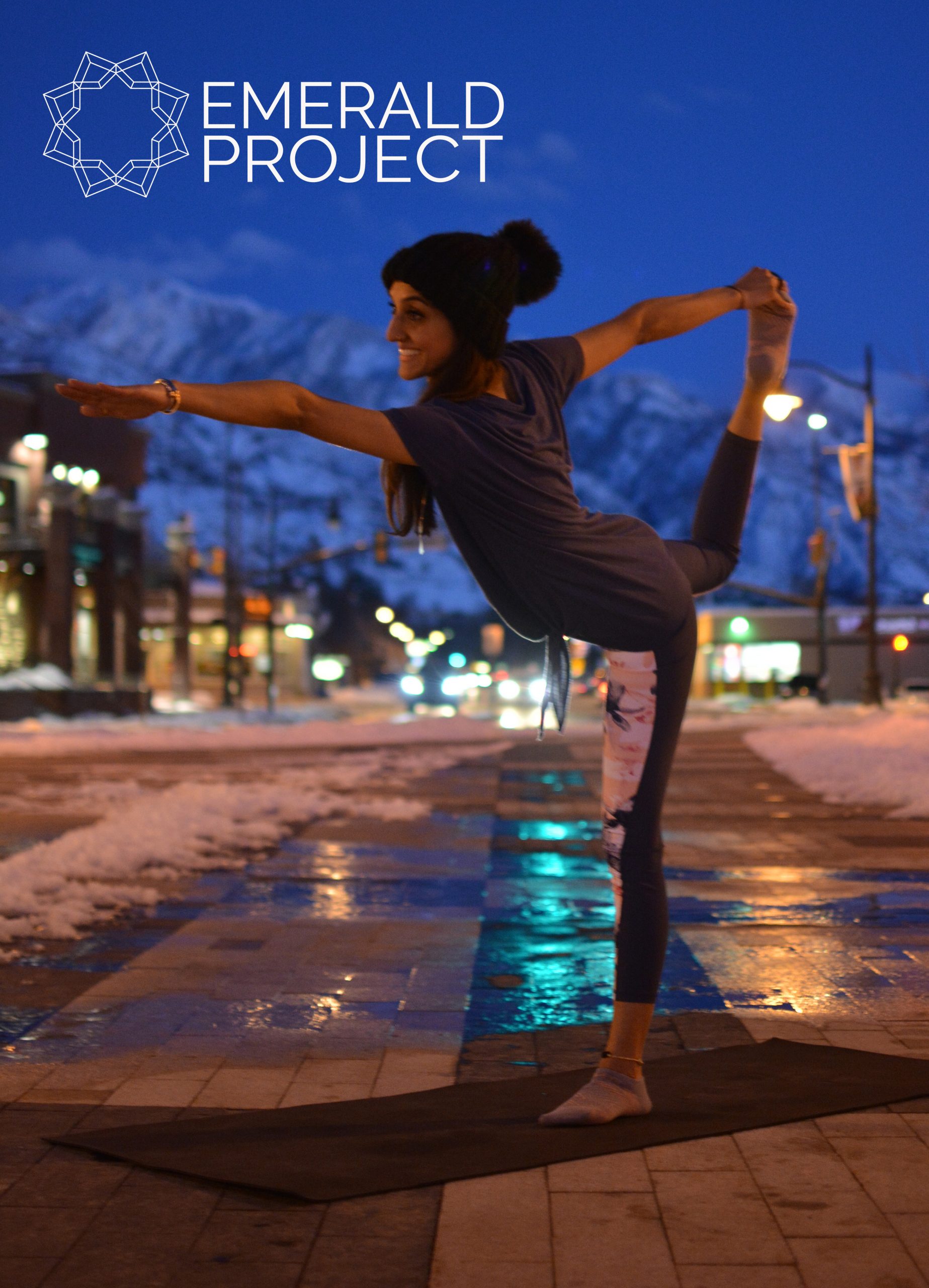 As young Muslims we never had a space that reflected our identity. When Nora and I saw the exhibit upon completion we were so overwhelmed, we cried. It was the first time we saw our faith presented to the public with such respect and accuracy.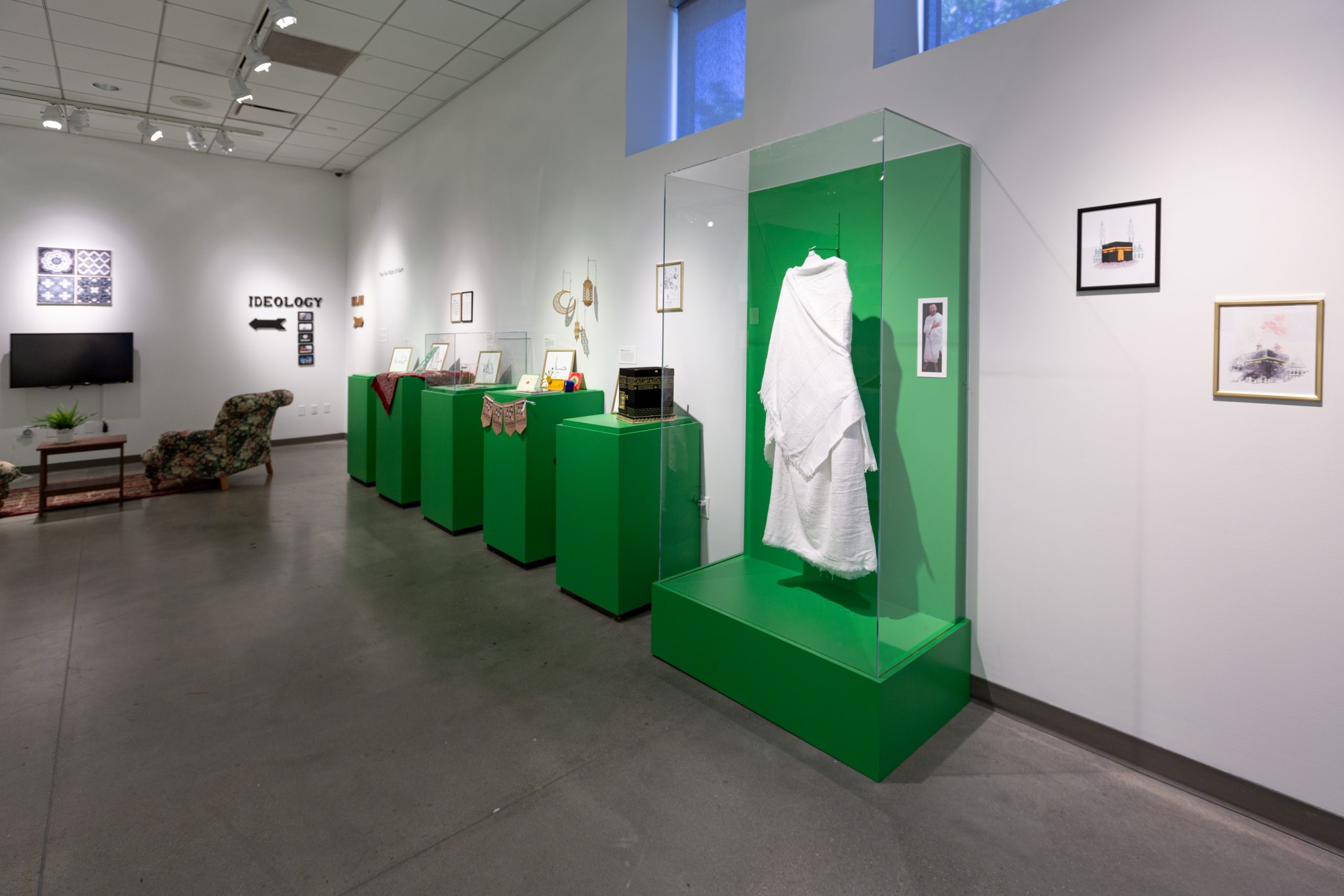 Emerald Gives Back
We are proud to call Salt Lake Valley our home, and we want to give back to the community we live in. Not only that, but because we believe it is our duty as Muslims to help our neighbors. A hadith tells us that  "None of you believes until he loves for his brother what he loves for himself" [Riyad as-Salihin 183]. As an organization, we have committed to serve at least 2 hours a month to various community partners around our area. Team members are not limited to the 2 hour requirement, and are always welcome to do more. If your organization needs a little help, we are here for you. Please contact Tala Shihab, our Community Coordinator, to gather our team to help yours.
If your organization needs volunteers, please reach out to our Community Volunteer Coordinator Tala Shihab at tala@emeraldproject.org .
Talking with the FBI
The Emerald Project in collaboration with the FBI hosted a private event to discuss Islamophobia. This event brought together law enforcement to have an in depth conversation about Muslims, Islam and the misconceptions of both in a post 9/11 America.
Muslim Stories
The Muslim Stories Instagram Series combats the misrepresentation of Islam by spotlighting the experiences of Muslims. This instagram campaign showcases the diversity within the Muslim community, both ethnic diversity and diversity of expereinces.
 Follow @emeraldprojectslc for these featured stories, and look for #EmeraldStories.
If you are a Muslim interested to be featured on our page please email our Ambassador Nour Bilal who leads the Muslim Stories project at nour@emeraldproject.org.
#EmeraldStories
Daughterhood is a struggle I reconcile with on the daily. I live up to cultural expectations of an American Pakistani Muslim.
Three significant labels to my identity in which recently the practice of yoga has helped me to explore even deeper. Life is an ever changing phenomenon. Every single day we are on some kind of journey, in search for a stable center. That center resides within me and yoga has guided me to uncover a deeper truth about myself.
I have grown up struggling to find a momentum in living a dual cultured life. I struggle to negotiate the ethnic traditions while still upholding my American roots. That can be challenging.
Yoga is a moment-to-moment practice in which you literally learn to let go and delve into an opportunity of liberation.
Liberation of the mind, body, and soul. It's a safe space for me to welcome silence and listen to the wisdom that lies within me. I feel that the teachings of Islam are often misunderstood in finding the balance between the expectation of culture and religion. I believe the focus of Islam is to simplify your life and just focus on the basics. I surrender in my journey to find balance, strength, and flexibility in every aspect of life. These also happen to be the elements that make up the faith of Islam: moderation and flexibility.
UMFA Exhibition: Ummah
The Utah Museum of Fine Arts (UMFA) and Emerald Project present a new ACME Lab exhibition, Ummah, a collaborative and community-focused installation dedicated to celebrating Utah's Muslim community and educating the public about the Islamic way of life. Ummah, the Arabic word for community, refers to a collective of Islamic peoples transcending the boundaries of nations and can also mean a community with any common history—a title that successfully reflects the intentions of this exhibition.
The gallery is divided into five sections, arranged to deconstruct the myths around Islam, such as the role of women, address stereotypes assigned to the Muslim community—especially following the September 11 attacks—and celebrate the diversity and traditions in the various Muslim Utah communities. Through education and experience, Ummah promotes acceptance of this often-misunderstood population, both statewide and globally.
View more stories of our works
Emerald Gives Back
Talking with the FBI
Muslim Stories
UMFA Exhibition: Ummah