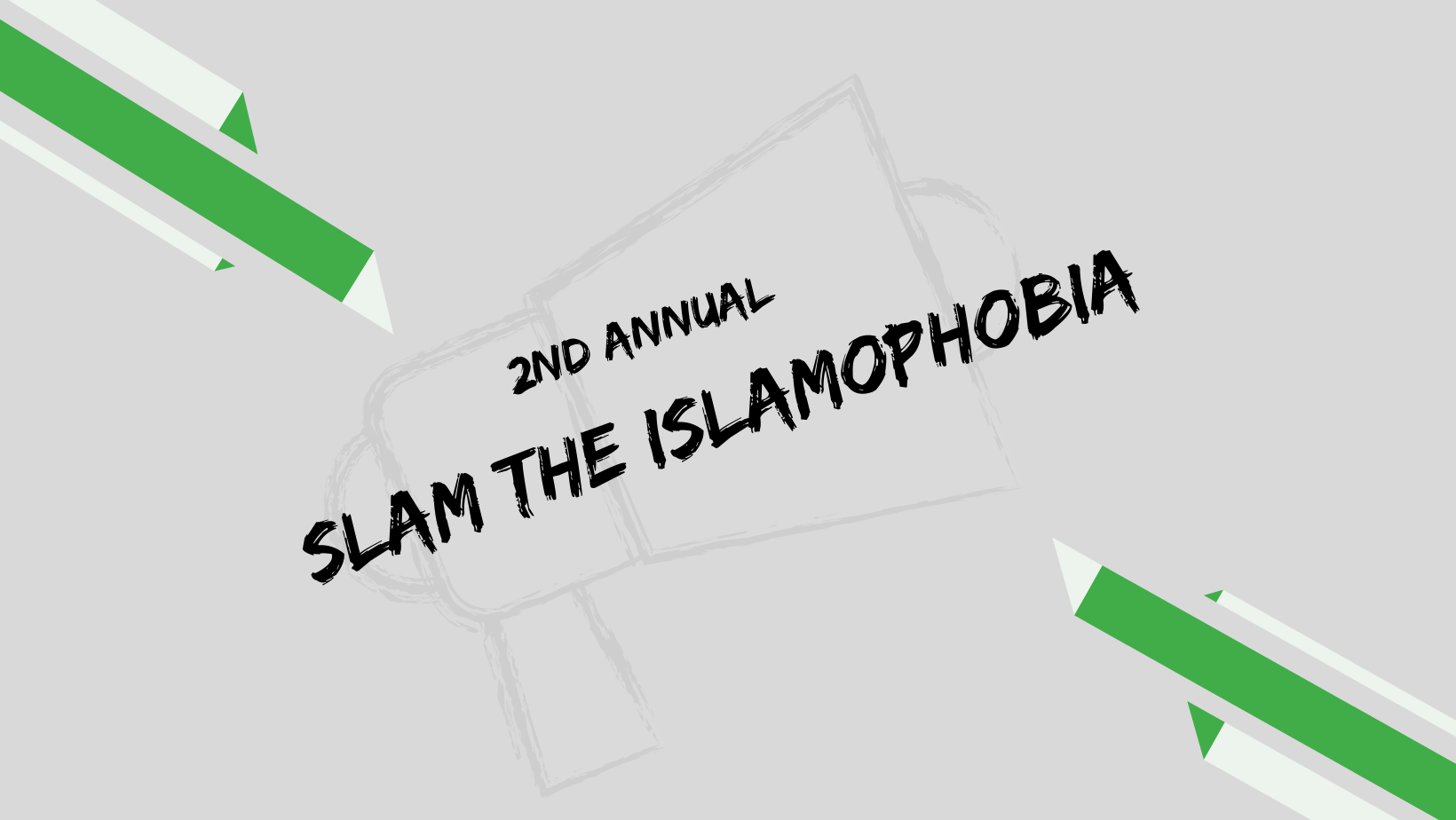 Date: October 15, 2021
Time: 6:00PM – 8:30 PM
Location: Lost Eden Gallery at the Gateway
71 S Rio Grande ST
SLC, UT 84101
Directions
Lost Eden Gallery is located at The Gateway in downtown Salt Lake City, West of the intersection at 400 West and 100 South.
​
Parking
The most direct and secure parking for Discovery Gateway is in the NORTH GARAGE at The Gateway. The first hour of parking is FREE.
Registration to Attend
About
Emerald Project in partnership with Utah Humanities, presents the second annual Slam the Islamophobia: a night of poetry, prose, and art performances to empower Muslim youth in Utah. As Muslim youth, our voices and experiences are often erased from mainstream conversations on identity. Come support young Muslims as they share their diverse stories and passions through poetry and other art forms! This is an annual project hosted by Emerald Project's young team of Muslims who advocate for the accurate representation of Islam. Slam the Islamophobia is a space for Muslims to safely express themselves through the arts
The event will be headlined by Chicano poet Antonio López.
Antonio López is a Councilman of the City of East Palo Alto, a Chicano poet, and author of Gentefication (Four Way Books, Sept. '21).
"In his debut poetry collection Gentefication, Antonio Lopez adorns novelty with innovation by rendering the reader-in addition to the objective world-in surprising new ways. As if they were exorcising our demons or, less ominously, assigning us roles that break from the typecast routines of our daily lives, these poems call to the surface aspects of ourselves that we are rarely asked to engage. Poems tender and ironic, earnest and outraged display a mind abundant with knowledge yet desperate for answers. While so much American poetry asks of the reader only their passive attention, these poems work like personal trainers. They call for the kind of mental and spiritual absorption that can make prayer feel productive." Gregory Pardlo, Winner of the Pulitzer Prize for Poetry.
Register to Perform
Would you like to perform at Slam the Islamophobia?
The Second Annual Slam the Islamophobia will be an event for Muslims to express themselves through the arts and will be held on October 15th, 2021, 6:00-9:00 PM MST, hosted by Emerald Project. Location TBD.
This event will give Muslims like you a voice and space to express your experiences and feelings. Islamophobia is rampant in communities across America. We want to build a space and community where Muslims have a safe community to express themselves. We want to uplift the voices of Muslims, therefore to be eligible to apply, the applicant must identify as Muslim.
Possible Performance Ideas:

Poetry
Nasheed (Islamic songs)
Dance
Speech
Painting (Showcased on the side)
Calligraphy
Design
Mosaic
Performing Arts (Theatre)
Architecture (Mosques, etc.)
Photography
Videography
Literature
Rug and carpet weaving
Application Deadline: October 1st, 2021
Rehearsal Date: October 9th, 2021
In Partnership with